2023 GBAR REALTOR OF THE YEAR
CONGRATULATIONS!
Congratulations to Julie Sleeper  who was chosen as the recipient of the 2023 GBAR REALTOR® of the Year!
She is in her second year of service to our local Association as Director, and in her third as Chair of our PR Committee. She regularly attends GBAR membership meetings and events, is a presenter at our New Member Orientations, has served on the Golf Scramble task force for the past two years, and has been on the Holiday Task force since 2016.
At the Maine Association of REALTORS, Julie has trained as a mediator and regularly attends the MAR Annual Conference.
At Realty of Maine, she has been COO and co-owner since 2020, and is the owner of Julie Sleeper Photography since 2010.
Julie has been very active in charitable events like Pumpkins in the Park, the annual Shriners' Festival of Trees, Champion the Cure, Hike for the Homeless and Realty of Maine Cares Initiative which makes donations to various charitable organizations once a month. She is very involved in fundraising for Rett Syndrome Foundation in hopes that the cure will be found, and her silent angel will finally have her own voice.
Julie selflessly offers her time and resources whenever and wherever help is needed, including offering her professional photography services to board events at no charge. It's in her nature and a part of her character. She's a fantastic organizer and cheerleader for events of all kinds, and does all of this while being a single mother caring for a special needs child.
Julie's email address is juliesleeper@realtyofmaine.com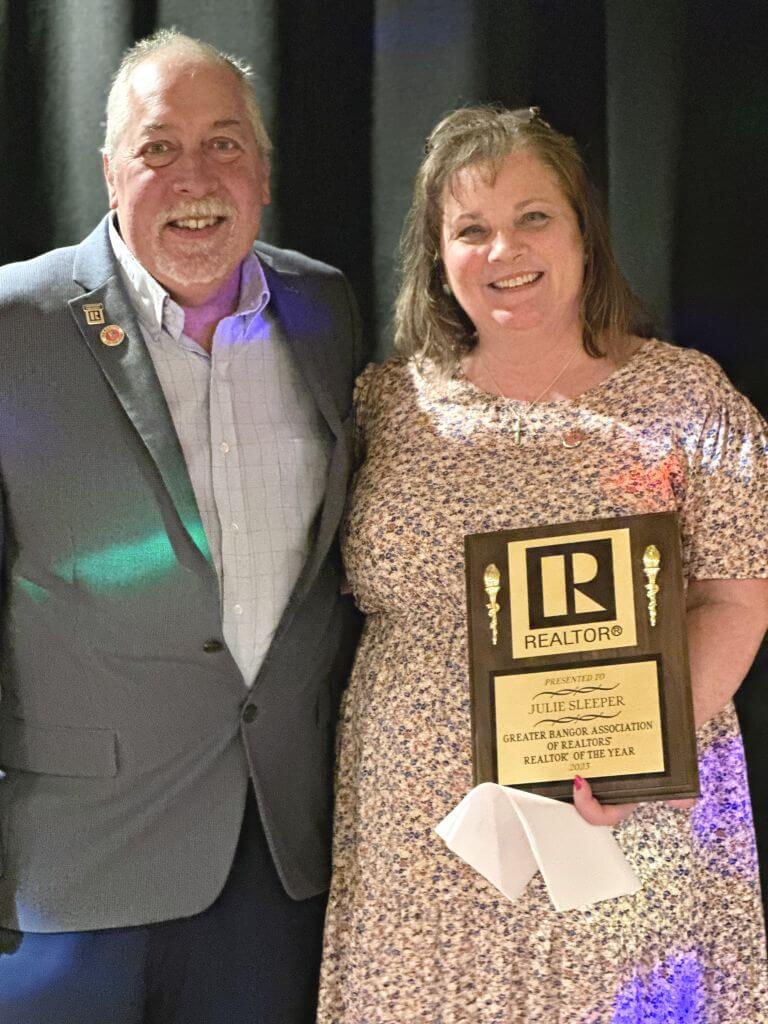 2023 GBAR President Gary Jordan with 2023 GBAR REALTOR of the Year, Julie Sleeper